The decision has been made. FUBeAR will be in attendance at the Mercer @ Sanford Football game tomorrow. Bears always travel with their Cubs, so FUBeAR will be accompanied by this FormerBear...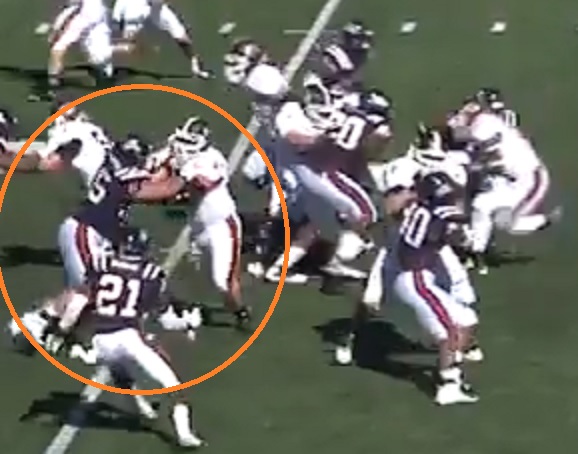 ...who, in this pic, as was always his standard practice, has driven a Sanford Bullpup DLman 5 yards off the ball.
So, FUBeAR, who has endured your slings and arrows for many years now, will have his Personal Protector in tow, just in case any of you torus-caninis plan to made good on your many threats of the painful ursinicide of FUBeAR. Of course, the FormerBearPersonalProtector is NOW less than half the weight of Sanford's Left Tackle's next expected roster adjusted weight...but he's still wily...and mean. So....Beware the FormerBear!
I can't divulge our seat locations (because we don't have any)...but let's just say...based on the way that Mercer's O-Line has looked so far, FUBeAR and FormerBear may need to, and, will be in an excellent position to jump into the game at a moment's notice...FUBeAR for 1 inspirational-only play...then straight to the medical tent for multiple emergency joint replacement surgeries.
Now...if any of you care to be cordial hosts, there is a chance, depending on traffic, and FormerBear's willingness, that FUBeAR could be persuaded to cross the 38th parallel (that runs thru Homewood, right?) and share an adult beverage with you pre-game. If so, post how we can find you here and we'll see if we can make it happen. FUBeAR would love to meet some of you curs. But not cujo. Never cujo!